Understanding Mindmap Software – What is Mind Mapping?
Mind Maps make it easy to understand, remember, and communicate complex information.
In the modern world, we often suffer from information overload and overwhelm, which reduces our productivity and effectiveness. Mind Maps are used to brainstorm ideas, visualize and classify information, which helps us to overcome these issues and be able to make sense of it all, and stay organized and efficient
Some of the problems we face are:
inability to solve problems effectively,
lack of creative thought,
lack of focus,
difficulty giving great presentations,
problems organizing your thoughts,
poor communication,
missing out tasks when planning projects,
forgetting important information, and
lack of clarity and direction.
If you have suffered from any of these problems, Mind Mapping is for you. Mind Mapping gives you clarity and allows you to:
organize ideas,
memorize and recall information,
communicate better,
solve problems quickly and effortlessly,
brainstorm new ideas,
increase productivity by 20% or more,
see the important issues,
make better decisions, and
give compelling presentations.
Mind Maps organize the information in the same way your brain organizes information. This makes it very natural and easy to understand.
Our brains like thinking in pictures. The smooth curves and colorful pictures that are created when using MindMapping software create powerful images for your brain to remember.
We have two halves to our brains which think in different ways. The left half thinks linearly following direct linkages to related ideas. Our right brain likes to see the whole picture with colors and flow.
A Mind Map caters to both sides of the brain at the same time, which makes it a very good way of storing and recalling information, presenting things to other people, and brainstorming new ideas.
Note that in some places you will find Mind Mapping referred to as Idea Mapping and the Mind Maps referred to as spidergrams and spidergraphs.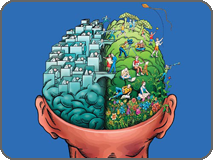 Using MindMapping software, it is easy to arrange the topics according to the importance of the topics and how they relate to each other. Radial hierarchical layout, non-linear creation and editing encourage brainstorming.
An important part of Mind Mapping is that each Mind Map is unique in structure and design, making it easy for our brains to remember the information. MindMap software such as NovaMind makes it easy to alter colors and topic shapes, and add images to make the Mind Maps unique and memorable.
MindMapping software gives you a lot more than basic Mind Mapping, including things like recoloring of branches, reorganizing the Mind Map, drag and drop images and so much more.