We are pleased to announce the immediate availability of NovaMind for Windows 8 – the first Mind Mapping application available designed for Windows 8!
Touch First
More and more people are using tablet computers and other touch capable devices, and with the pending release of Windows 8, Microsoft has designed a completely new user interface which is "touch friendly" from the ground up.
In order to be a first class citizen in this new world, we have developed a completely new version of NovaMind, built using a "touch first" philosophy, and using the new Windows 8 user interface.
This makes it easy to create and edit Mind Maps on your touch based devices, with the ability to just drag out subtopics from parent topics, drag to reorder and graft topics, and full support for gestures like pinch to zoom and swipe to pan around your Mind Maps. You can also use keyboard and mouse for editing.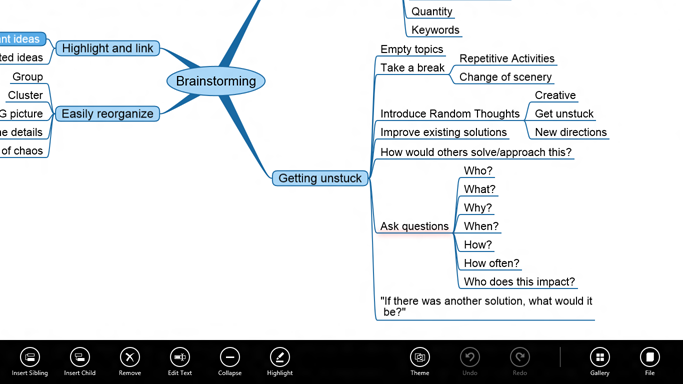 Building on Solid Foundations
Backed by over 10 years of Mind Mapping software development experience, and with the recent development of NovaMind 5, we had solid foundations on which to build the Windows 8 version. Although this is a completely new development using the new Windows 8 technologies, many parts of NovaMind 5 have been converted and updated to run on Windows 8, including the NovaMind 5 layout engine and theme system.
This means that you get the automatic layout and compact Mind Maps the same as what you have in NovaMind 5, as well as the power of the theme system to make your Mind Maps look great.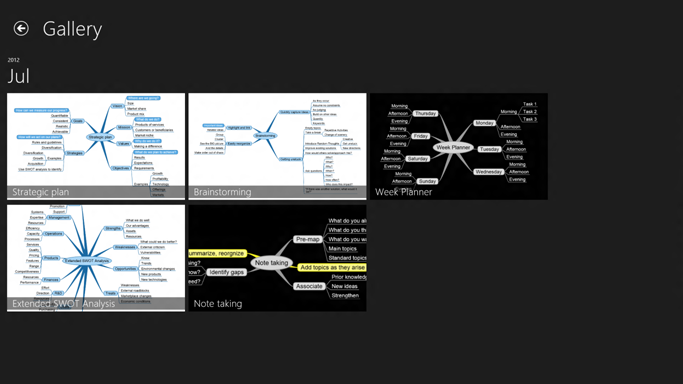 I want to try it – where can I get it?
You can find out more about the application at http://apps.microsoft.com/webpdp/app/novamind/d1c809ab-90ab-4ae8-8d6e-a159ae90f8d8, and if you are already using the Windows 8 preview, you can download the application from the Windows Store.
FAQ
Will this completely replace NovaMind 5?
This is not intended to be a complete replacement for NovaMind 5, but rather a companion application that you can use when you are working on touch based devices, or have relatively simple Mind Mapping needs.
We do intend to add to the capabilities of the core application, and also sell extensions which will give you additional capabilities within the Windows 8 version of NovaMind.
But Windows 8 hasn't been released yet!
This is correct, but Microsoft have announced that the new operating system will be released on October 26th, and have also released a preview version of the operating system so that people can try it out now, and create applications for it.
They also have a preview version of their Windows Store included in the preview of Windows 8, and NovaMind is already on the Windows Store and available for download free.
It is possible that there will be changes to the operating system before release, and we may have to update NovaMind to deal with those changes, and we are planning to add some more features to the application before the the public launch of Windows 8.
How do I share Mind Maps using NovaMind for Windows 8?
This feature is currently disabled due to a bug in the current preview of Windows 8. Microsoft have acknowledged that this bug exists, and have told us that this bug will be fixed in the final release and in the RTM version which is said to be available early August. At that time, we will be able to test that their fix has actually solved the problem and update NovaMind accordingly. Due to the fact that we are unable to test this before the release of the updated preview, and that we have to submit the updated application to the Windows Store for review before it is posted and available for download, there will be a delay between the release of the updated Windows 8 preview, and the updated version of NovaMind being available.
The following is the intention when we are able to enable this feature:
You will be able to export your Mind Maps to the NovaMind 5 format. Those exported documents can then be opened in NovaMind 5 or sent to someone else using the Windows 8 app.
The app itself will initially not be able to open documents created with the NovaMind 5 Desktop app.
What can you do with the Windows 8 version?
The current release is a free application with basic Mind Mapping capabilities. We will be improving the basic application over time, and also selling enhancements for those who want the additional features.

Already, the features include:
Easy Mind Map creation
Full tablet and touch device support
Compact automatic Mind Map layout
Graft topics to different locations
Expand and collapse subtopics to see relevant information
Gallery of sample Mind Maps to get you started
Themes to instantly change the look of your Mind Maps
Highlighting of important topics
Undo and redo support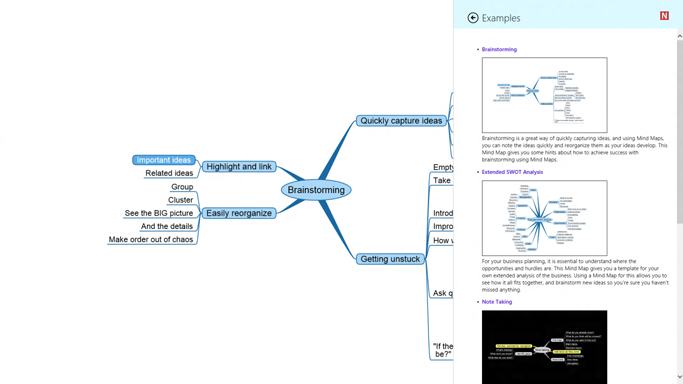 Will my existing copy of NovaMind 5 run on Windows 8?
Yes, NovaMind 5 will run on Windows 8, but will not adopt the new Metro user interface or work with the new touch based user interaction brought by Windows 8. It will remain an excellent choice for power Mind Mapping, in a desktop or laptop environment.
How can I get up to speed with NovaMind for Windows 8?
When you run NovaMind on Windows 8, you can get to the help information by swiping from the right to show the charms bar (or move your mouse cursor to the right of the screen). Click on the Settings charm, and then Help.
The help is brief but important for you to get the most out of the application, so we recommend that you read it.
For More Information and to Download:
You can find out more about the application at http://apps.microsoft.com/webpdp/app/novamind/d1c809ab-90ab-4ae8-8d6e-a159ae90f8d8, and if you are already using the Windows 8 preview, you can download the application from the Windows Store.
If you have any queries regarding NovaMind, please contact the NovaMind support team